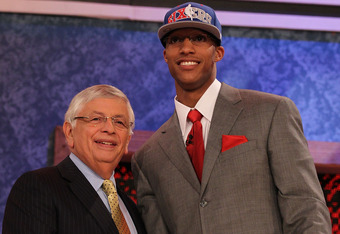 (Philadelphia, PA) -
The Philadelphia 76ers and second overall pick Evan Turner have agreed to terms on two-year deal with a club option for the third.
The team announced they agreed to terms last night and will pay the former Ohio State All-American $3.8 million his rookie season (league minimum) and $4.1 million in his second year with the club option of $4.4 million for a third year.
Turner won the Naismith Award, Wooden Award and Big Ten Player of the Year, averaging 20.4 points and 9.2 rebounds a game.
The 6-7 shooting guard is expected to start this season but could be brought on slowly by new head coach Doug Collins.
Turner was the first Division 1 player since Oscar Robertson to average at least 20 points, nine rebounds, and six assists for a season and because of his effort was named the Associated Press Player of the Year.
Turner averaged 5.6 points and 5.6 rebounds a game in summer league action, playing just over 27 minutes a game.