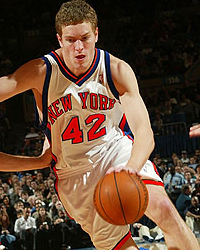 (San Francisco, CA) --
In a twist of fate former Knicks center David Lee is heading to the west coast in a sign-and-trade to the Golden State Warriors.
It is a four person trade that will net Lee a six-year $80 million dollar deal to head to the Warriors in trade for forwards Anthony Randolph, Kelenna Azubuike and Ronny Turiaf.
Lee was one of the most popular free agents on the market after the LeBron James signing and averaged 20.2 and 11.7 rebounds last season with the Knicks. It was expected that he would play elsewhere after A'mare Stoudemire signed a free agent deal with New York.
Lee will be a strong upgrade for the Warriors and will flourish in Don Nelson's system. Lee is a strong low-post player and in the last two season has developed a strong 15 foot jumper. The good thing is Lee will most likely move to the PF spot and open more options for himself.
The Warriors already have Andris Biedrins at the center position.
Complete Free Agency Coverage