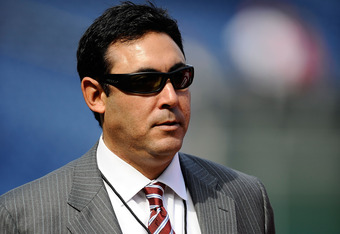 Jeff Zelevansky/Getty Images
Philadelphia, PA—
Oh, how quickly tides and public opinion can change in just four short games.
Last week, it was all hands on deck panic with the Philadelphia Phillies, who had just dropped six of seven to the Cubs and Cardinals. Yet now, just days after the firing of hitting coach Milt Thompson, the Phillies are playing like a team possessed.
Entering tonight's game against the Colorado Rockies, the Phillies are on a four-game winning streak and showing signs of production not seen in months. They have outscored their opponents 22-5 and chased one of the game's best pitchers, Ubaldo Jimenez, from the mound in a morale-boosting 10-2 drubbing.
On top of all of that, the team has done it all without making the major move that many expected just days ago. The question is, will the morale-boosting offense last, or is this all just a quick fix to an even larger problem?
Every Phillies fan is optimistic that the team of players currently in the lineup will rebound and make a charge towards the playoffs, but most, if not all, understand that pitchers like Kyle Kendrick and J.A. Happ make that surge a little more then a gamble.
It is well-known the Philadelphia Phillies need help if they are going to make it to their third straight World Series. Names such as Roy Oswalt, Dan Haren, and Ted Lilly have been flying around the mouths and airwaves of Philly like they are already playing at Citizens Bank Park. Yet in recent days, we've seen Roy Oswalt deny any interest in the Phillies and the team's proposed back-up plan, Dan Haren, was shipped in a four-player trade to the Los Angeles Angels.
We now have less than six days until the MLB trade deadline as, hour by hour, the potential acquisitions get smaller. Yet every time we get a hint of a move, it seems that either the Phillies are too secretive with their intentions or they hoodwink the media of their own organization incompetence.
On Thursday, when Jamie Moyer went down with a potential career-ending elbow injury, we heard quotes from Phillies GM Ruben Amaro regarding trades that "were expected to bolster our roster," yet no hints towards player movement were ever made.
After the demotion of Kyle Kendrick to Triple-A Lehigh Valley, there was an open spot in the rotation. Then came the injury to Moyer and two spots were now open. Instead of making a move for a reliable starter and acquiring a player to assist his team, Amaro made their emergency procedure of recalling Kendrick from the minors, before he made a start, and rushing J.A. Happ back into the fold to fill in the holes this weekend.
We all know about the 'unspoken' ceiling for the Phillies payroll. The magic $140 million payroll that we dare not cross. This magic number is the same reason Jayson Werth will be playing elsewhere next year and the same reason that Cliff Lee is no longer in the rotation, a solution that would eliminate around 90 percent of the team's present woes.
The next six to seven days are going to define not only the Phillies, but the legacy of GM Ruben Amaro. The Phillies are sitting at the table with fewer chips than ever and, without the monetary backing from the powers that be, it's looking like Amaro is bluffing and every Phillies fan is learning his tell.