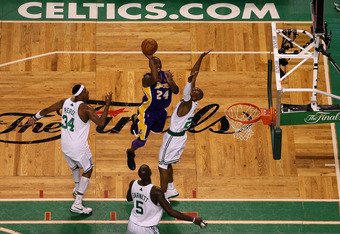 The theme to this years NBA Finals seems to be the intangibles. In game one it was the
Lakers'
second half defense. Game two was a career effort by Ray Allen. Game three was the ageless Derek Fisher, and last night it was the Celtics deep bench that got the win.
Glen "Big Baby" Davis dropped an impressive 18 points off the bench for the Boston Celtics as they evened the 2010 NBA Finals at two games a piece. A packed TD Bank Garden of over 18,000 witnessed unlikely leaders for the 2008 champs and the C's stretch the lead with "the big three" rooting from the sidelines.
With Davis dropping nine of his 18 in the fourth quarter and Nate Robinson chipping in a series high 12 points, nine in the fourth quarter, the Celtics now created what is a best-of-three series and still have one more game in Boston before the series heads back west.
There is much anticipation in Boston as they Celtics attempt to win their second title in three years, but if history has taught us anything about the NBA playoffs the Celtics are just delaying the inevitable.
Beyond the glorious rivalry that is the
Lakers
v.s Celtics, many writers and media pundits have discussed the role the 2-3-2 playoff format will have on the series, yet no one is really keying in on one defining stat...
Since the NBA adopted the 2-3-2 format in 1985 no team that has lost game three at home has ever come back to win the series. It's a sad fact of history for the Celtics and is something that will make the rest of the series distracting for anyone that follows basketball history.
Another interesting factoid that may frustrate Celtics fans is if history does repeat itself, the Celtics only have one person to blame... legendary coach Red
Auerbach
.
Before the 1985 series
Auerbach
was one of the biggest proponents for the 2-3-2 format. He felt that the system at the time (2-2-1-1-1) caused too much fatigue and depleted the quality of the games.
Now this format has benefited Boston (1986 & 2008) but with the
Lakers
taking over game three and winning in daunting fashion, the rest of the series will be like watching a prize fighter way beyond his prime taking unneeded punishment.
As someone who favors the Celtics over the
Lakers
, it is a tough realization to come to. The fact that this will mean the demise of the "big three" is disheartening and the idea of another purple and gold banner in the Staples Center does not feel right. I appreciate the past and as history dictates, Hollywood will have another ticker-tape parade.
There is an old adage that "Those that don't know history tend to repeat it." Let's hope the Celtics acknowledge the past and overcome
-b.chan