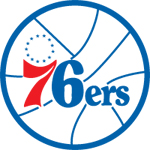 Sixers and Nets in play tonight. Nets are one win away from tying the record for the worst season ever and the Sixers are set to face off against the Atlanta Hawks at the Wac Center. For the fans that are still paying attention to Philly basketball you know that the only thing the Sixers have to look forward to is failure.
Just like the Phillies and the 10,000 losses the Sixers can get their biggest embarrassment behind them if the Nets can some how tank the remainder of their games. Our team has no hope and right now even though there is no competition we need to be rooting for N.J. to fail like they are the Mets.
The only way tonight can end well is if the tri-state area fails. Fingers crossed.
*Sidenote: Jason Kapono starts again for the Sixers and Eddie Jordan decides Speights is a better fit over Dalembert for the Center start. I hope Josh Smith kills him for 48 minutes...Seriously this guys is *special* (pc plug).
-b.chan