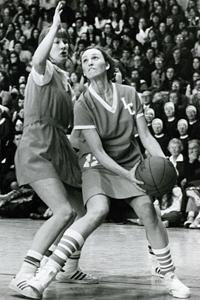 1973 -
Immaculata beats Queens College, 59-52 to win AIAW Basketball title
There was a time, not to long ago, when the NCAA did not recognize women. There were hundreds of women's athletic programs that could not compete nationally with the likes of the boys. At a time where the NCAA was battling with the AIAW over the fact that not only did womens sports deserve to be marketed and shown to a national auidence but that it deserved equal respect on the national level.
We think of UConn and Tennessee as the biggest dominant programs in womens sports, but before Pat Summit and Geno took the spotlight it was the small all girls teaching school from Southeast PA that was the juggernaut. When the Immaculata Mighty Macs were the big dogs and practically ruled the AIAW with a iron fist. After the Macs defeated Queens College for the 1973 title the team had clinched their second of three straight womens national basketball titles.
This is monumental in womens sports because this was only the second official womens national championship played with the traditional rules of basketball. Before 1972, when the Mocs won their first title, womens basketball was restricted to half court play, and players were held to a fundamentally flawed three dribble rule.
With the growth of the sport and things such as the WNBA or 73 game winning streaks the sports has evolved heavily.
The Mocs were leaders in the fight for equality for womens athletics and led that charge for the sport of womens basketball we know today. So when you see the highlights of this years tournament remember that it was the small school for Southeast PA that led the charge.
The story of the Might Macs is set to become a full length feature film. Check it out here
http://www.themightymacs.com/
-b.chan