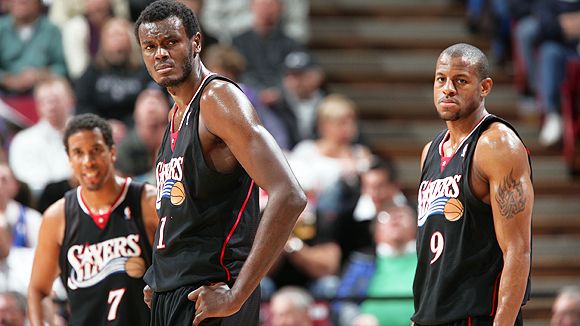 For the first time since Halloween the Philadelphia 76ers manager to win two games in a row Wednesday night as they topped the Sacramento Kings 116-106 at Sacramento's ARCO Arena.
Philadelphia (9-22) shot over 50 percent for this first time in their current six game road trip and capitalized on 19 points off of turnovers. The Sixers we given a huge boost by excellent perimeter shooting finishing nine-of-16 from beyond the arch.
The Sixers finished with six players in double figures including 14 from Rodney Carney who in only 15 minutes knocked down four three pointers in a 10-2 Sixers run.
The team benefited by another stellar night by the starting guards. Allen Iverson finished the game with 20 points and three assists in 30 minutes of play. The real surprise was Lou Williams who continues to regain his touch on the basketball after returning from a fractured jaw. Williams finished with 22 points and helped open up shots for his team mates with strong drives to the lane.
For the Kings (14-17) it was another strong evening for forward Donte Greene. Greene finished with a Sacramento high 21 points and pulled down six rebounds. Also dropping in 21 for the Kings was Israeli rookie Omri Casspi. Casspi went eight-of-14 from the field and grabbed 9 rebounds.
The Kings kept the game close but it was obvious they were in desperate need of Tyreke Evans who missed the game with a right ankle sprain. Evans has been one of the most productive rookies in the league this year and is averaging over 20 points and five assists a game.
The Sixers are now 2-2 on their current six game road trip. Tonight they will take on the L.A. Clippers to finish off a back to back then they will finish at the Denver Nuggets on January 3rd. The Sixers lost their initial meetings with the Clippers 112-107 in a overtime thriller the game before their current road trip and fell to the Denver Nuggets 93-83 on December 7th.
-b.chan