This is part one of my three part NBA Mock Draft.
First before I begin giving you my first draft of the 2010 NBA Mock Draft season I want to preface this by saying I made the picks I did with the assumption that a few free agents are leaving their respected team and certain I feel are remaining. I think that D-Wade is staying in Miami, LeBron is leaving, Chris Bosh will no longer be a Raptor and Joe Johnson is exiting the way of Mike Woodson. I preface this by saying that if you don't agree I am sorry but I guess we won't know the true validity of the free agent market till July, 9th.
I made my picks based on need, availability and a large amount of common sense. Despite the rumors and theories John Wall is going to be the second pick and if the Sixers don't take Evan Turner with the second pick I might jump off a bridge... That being said I present you part 1-of-3 of the Mock Draft 1.0.
1. Washington Wizards: John Wall (PG) Kentucky
This pick was a no brain-er even before the Wizards won the lottery. Wall has the most hype and potential out of this draft. This is a good fit for the Wizards because it will allow the reinstated Gilbert Arenas to move to the SG position, which is his natural fit. This team has the money to take on a max contract so with Wall and Arenas in the backcourt expect them to make a move after a PF or PF/C combo.
2. Philadelphia 76ers: Evan Turner (SG) Ohio State
This is the smartest pick for the lowly Sixers. The team has no many multiples in the front court and having the chance to take Turner at the second pick is a gift to the Sixers who went a dismal 27-55 last year. Turner is a all around talent, and will make a strong asset to a team that needs a fresh start. The Sixers will get a back court of the future with Turner and last years first round pick Jrue Holiday.
3. N.J. Nets: Derrick Favors (PF) Georgia Tech
Nets majority Mikhail Prokhorov took over with a grand plan in his first night as Nets gm: Take John Wall with the first pick, steal LeBron James in free agency and instantly turn around the Nets. Problem is in the last five years the worst team in the league has not won the lottery. With all of that in the past I expect the Nets to take the young and talented Favors. It has been made clear that Prokhorov does not plan on keep Yi Jianlian so expect Favors to slide into the starting PF position quickly.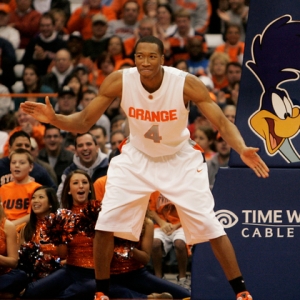 4. Minnesota Timberwolves: Wesley Johnson (SF) Syracuse
. Johnson averaged 16 points a game last season and will fit in nicely with a Timberwolves team that is still rebuilding. Yes I know he is pretty much a Ryan Gomes replica but that will add some stability to a team that is lacking a deep bench. Plus Johnson can slide into the 4 when Kevin Love needs a break. Be advised I would not be surprised if the T-Wolves went with a center in this pick. (DeMarcus Cousins is option 2).
5. Sacramento Kings: DeMarcus Cousins (PF/C) Kentucky
The Kings need help in the low post and Cousins would be a great fit. The Kings would be better then they finished last season is Spencer Hawes wasn't injured. Cousins and his 6'11 frame will add some stability in the low post and allow Carl Landry to move to SF.
6. Golden State Warriors: Al-Farouq Aminu (PF) Wake Forest
At 6'8 with a seven foot wing span Aminu could really help the young fast Warriors. He used to playing in a run and gun offense and could balance well with SF Corey Maggette. The Warriors were a -10 rebounding next season and Aminu can crash the boards. Many have compared him to Josh Smith and I agree. He is a hybrid forward that plays beyond his size.
7. Detroit Pistons: Ekpe Udoh (C) Baylor
Ben Wallace is old and Kwame Brown is garbage so taking a center at the seven slot is the easiest pick since Evan Turner. Udoh will be an immediate starter and will allow Jonas Jerebko to move out of the paint and take more outside shots. This will be an immediate upgrade for Detroit. This is a SG heavy draft so expect that Pistons to take one with their second round pick (26 overall).
8. L.A. Clippers: Cole Aldrich (PF/C) Kansas
Aldrich won't start seeing as the Clippers are expecting a rookie of the year season for Blake Griffin but expect the 6'11 Aldrich so get plenty of time off the bench. The reason I took Aldrich here is because I think he could be a top 5 selection. Don't be shocked if the Clippers take a SG but I think they like the insurance policy Aldrich can give them is Blake Griffin becomes the next Greg Oden.
9. Utah Jazz: Greg Monroe (PF) Georgetown
This is one of those picks that I mentioned in the preface. Monroe is a project player but may be a safe bet for the Jazz is Carlos Boozer opts out next year. Hes a smaller Lamar Odom type but with the right coaching could become a strong utility starter in the league. John Thompson produces quality Big Men and Monroe may be the next product to take over that crown.
10. Indiana Pacers: Ed Davis (PF) North Carolina
I really felt bad for the Pacers at the draft lottery. Danny Granger looked so stoked to be at the lottery but looked like someone shot his dog when the 10 pick came up. The Pacers have many needs and I don't think Tyler Hansbrough will ever be an NBA talent. In Davis the Pacers will get a true North Carolina PF and someone that will give Troy Murphy a rest when needed. Plus I think I speak for all NBA fans in saying the Pacers need to stop taking white guys, T.J. Ford looks like hes constantly being audited.
Picks 11-20 to come tomorrow, just a hint: 9-of-10 will be forward hybrids...
Let the scrutiny begin.
-b.chan