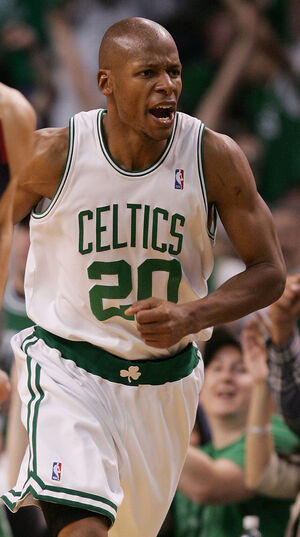 Ray Allen led the Celtics with 22 points and six assists as Boston topped Philadelphia, 84-80, for its league-leading 14th consecutive victory.
Shaquille O'Neal finished with 13 points and nine rebounds and Kevin Garnett and Paul Pierce added 12 and 11 points, respectively, for Boston, which capped a three-game home stand.
Elton Brand led Philadelphia with 16 points and 12 rebounds, but fouled out late in the fourth, and Jrue Holiday added 15 points for the Sixers, who have dropped two straight.
"Our team is competitive," said Sixers head coach Doug Collins. "Our guys compete every single night. For them to come out and play the Celtics the way we did, they showed me who they are. I knew our guys were going to compete like this."
Garnett sank two from the line with 3:17 remaining to tie the game at 76. Pierce added a pair of free throws 22 seconds later to give Boston the lead, but Lou Williams' running jump shot on the far end put the game at 78 apiece.
Allen went to the line for two after Holiday was called for a blocking foul, and after he sank both, Pierce added a short jumper, after an Andre Iguodala miss, to expand the Boston lead to 82-78.
Brand made a short jumper to make it a one-possession game, but he fouled O'Neal on the far end, sending him from the game. O'Neal missed both to give the Sixers life, but Iguodala turned the ball over on the next possession and was rejected by Garnett on a driving layup with 14.9 seconds left.
"Last time we played them, Paul (Pierce) told me Iguodala loves to go right, finish right, and Paul funneled him," said Garnett. "We talked about some things, some schemes, this morning about sending [Iguodala] to the defense, we did that and I just got the block"
Allen was fouled with 5.6 seconds left, and iced two from the line to seal the game.
Philadelphia's Andres Nocioni attempted a desperation three with 2.8 ticks remaining, but the shot was off target.
Allen scored 11 in the first, as Boston took a 23-17 lead after the opening 12 minutes. The Sixers responded in the second as they shot 58.3 percent from the field, to take a 44-38 lead at the half.
Philadelphia went cold in the third quarter, shooting 5-of-15 from the field, and Boston responded to take a 64-61 advantage heading into the final stanza.
Game Notes
Boston won the previous meeting, 102-101, on December 9...Boston shot 38.8 percent from the field, while the Sixers shot 43.1 percent...The Celtics won the rebounding margin, 43-40...Williams scored 12 points and Tony Battie added 10 points and six rebounds off the bench for the Sixers.
Copyright. The Sports Network